The Catalpa Inn, 373 Catalpa Lane, Prospect, VA 23960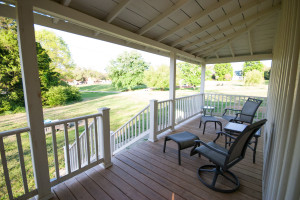 Directions from Farmville, Virginia:
Allow 12 minutes
Leave downtown Farmville on West Third Street, Business Route 15 North.  Travel to the stoplight at "Dowdy's Corner". (There is a Tom's Country Store on the left and Route 15 North veers to the right at this intersection.)
At stoplight, turn Left toward Highway 460 West.  Stay in the right lane to merge onto Hwy 460 West toward Appomattox and Lynchburg; "Prince Edward Highway."
Travel for approximately 4 miles on HWY 460 West "Prince Edward Highway" toward Prospect.  You will pass a Citgo Gas Station / Convenience Store on the right. Move into the left lane.
Turn left at the next road, "Glenn Carson Road," VA RTE 763. "Trinity Mennonite Church" is on the corner.   Follow Glenn Carson Road approximately 1/10 mile until it forks and bear right onto Catalpa Lane.  The Catalpa Inn is on the right corner of Glenn Carson and Catalpa Lane and is the first house on the right at 373 Catalpa Lane.
[If you are traveling on Hwy 460 W and come to a well defined intersection with VA RTE 626 "Peaks Rd" and "Prospect Rd", or pass a "Prospect Gas Station" on the left, you have missed Glenn Carson Road.]
Welcome to Prospect, Virginia!